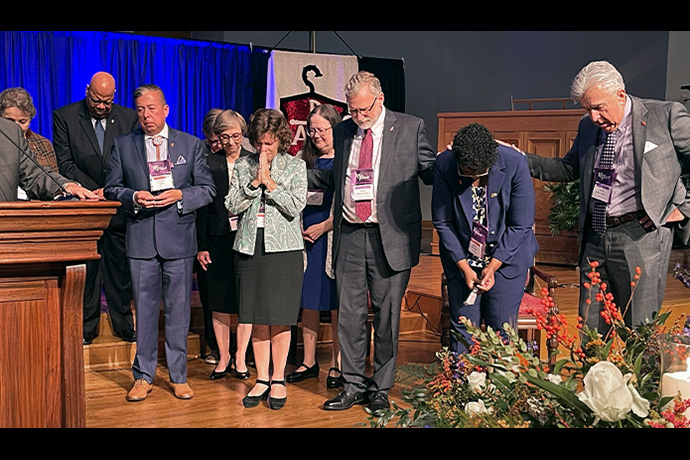 US bishops receive assignments
Editor's note: This story will be updated when the North Central and Western jurisdictional conferences announce their episcopal assignments.
The denomination's five U.S. jurisdictional conferences have elected bishops or are in the process of electing episcopal leaders at their Nov. 2-5 meetings. Eleven United Methodist clergy have been elected so far, with voting continuing in the Western jurisdiction.
Three of the five jurisdictions have announced episcopal assignments, effective Jan. 1.
Jurisdictional leaders recommended the election of 14 new bishops; however, that number is expected to be 13 after the Northeast Jurisdictional Conference voted to suspend its rules and delay the election of a second bishop until the 2024 jurisdictional conference.
The three Western Jurisdiction elections will bring the number of active U.S. bishops to 39, but the United States currently has 46 episcopal areas. Twenty United Methodist bishops in the United States will retire between 2021 and the end of this year.
Each jurisdiction's college of bishops and episcopal committee organizes coverage of the remaining episcopal areas, with some assigning bishops to serve more than one episcopal area as 16 bishops have done in the past two years with the General Conference postponed by the pandemic.
All active bishops are eligible for reassignment at jurisdictional conferences.
Here are the assignments announced to date, by conference. The names of new bishops are in bold blue.
Northeast Jurisdiction
Baltimore-Washington and Peninsula-Delaware: Bishop LaTrelle Easterling
Eastern Pennsylvania and Greater New Jersey: Bishop John R. Schol
New York: Bishop Thomas J. Bickerton
Susquehanna: Bishops Sandra L. Steiner Ball and Cynthia Moore-Koikoi
New York Top: Bishop Héctor A. Burgos-Núñez
West Virginia: Bishop Sandra L. Steiner Ball
Western Pennsylvania: Bishop Cynthia Moore-Koikoi
* New England: A new servant leadership coverage model will be revealed later, covered by the college of bishops.
Northeastern jurisdiction includes the states of Connecticut, Delaware, Maine, Maryland, Massachusetts, New Hampshire, New Jersey, New York, Pennsylvania, Rhode Island, Vermont, and Virginia -Western, as well as the District of Columbia.
South-Central Jurisdiction
Arkansas: Bishop Laura Merrill
North Texas and Central Texas Regions: Bishop Ruben Saenz Jr.
Great Plains: Bishop David Wilson
Louisiana: Bishop Delores "Dee" Williamston
Missouri: Bishop Robert "Bob" Farr
Oklahoma, Oklahoma Indian Missionary: Bishop James G. "Jimmy" Nunn
Rio Texas: Bishop Robert C. Schnase
Texas: Bishop Cynthia Fierro Harvey
* Schnase will provide coverage of the New Mexico conference and Nunn of the Northwest Texas conference, as they have.
The South Central jurisdiction includes the states of Arkansas, Kansas, Louisiana, Missouri, Nebraska, New Mexico, Oklahoma, and Texas.
Southeast Jurisdiction
Alabama-West Florida and South Georgia: Bishop David Graves
Florida: Bishop Thomas M. "Tom" Berlin
Holston and North Alabama: Bishop Debra Wallace-Padgett
Missionary of Kentucky and Central Appalachia: Bishop Leonard Fairley
Mississippi: Bishop Sharma Lewis
North Carolina: Bishop Connie Mitchell Shelton
North Georgia: Bishop Robin Dease
South Carolina: Bishop L. Jonathan Holston
Tennessee-West Kentucky: Bishop William "Bill" McAlilly
Virginia: Bishop Sue Haupert-Johnson
Western North Carolina: Bishop Kenneth Carter
The Southeast jurisdiction includes the states of Alabama, Florida, Georgia, Kentucky, Mississippi, North Carolina, South Carolina, Tennessee, and Virginia.
---
Do you like what you read ? Support the UM News Ministry! Your support ensures that the latest faith-based news, dynamic stories and informative articles will continue to connect our global community. Make a tax-deductible donation to
ResourceUMC.org/GiveUMCom.