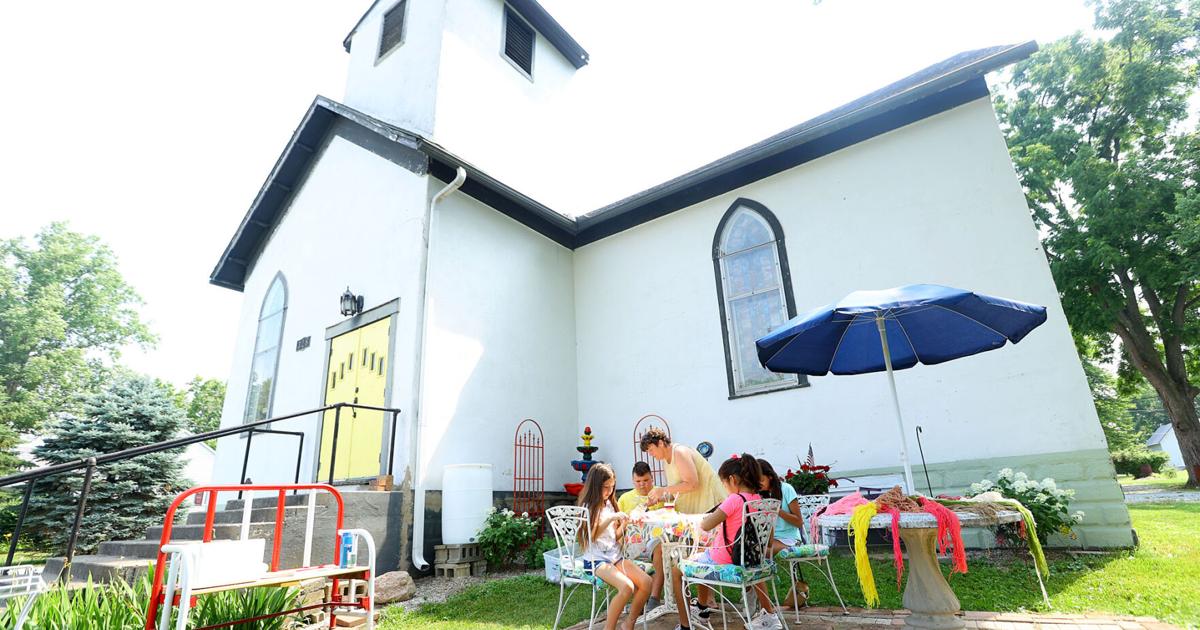 Textile arts company in Greentown 'brings life' to church building | Way of life
GREENTOWN – There's a different kind of communion served outside an old church in Greentown.
A brightly painted mailbox reads: 'Express yourself'. Nearby, the patio has become an outdoor learning and community space for those who wish to learn a new art.
Revival Fiber Arts, 328 N. Meridian St., Greentown, opened its classes this summer. The business is a work in progress that began years ago when Pam Hanshew envisioned her "dream business". She wanted to have a space where fiber artists of all ages and skill levels could learn, teach and perfect their craft.
In Hanshew's dream, people could learn weaving, quilting, rug hooking and more, as well as buying handmade items. She was so picky about where she wanted the business to be that it took her three years to find a location. She finally found him last year and classes started two weeks ago.
On July 7, the patio was a classroom for the first session of the company's textile arts program for children. Hanshew taught the children how to make a pencil holder using yarn and an old water bottle.
The contraption involved cutting off the top of a water bottle, then cutting the sides of the bottle into an odd number of sections. For this class, there were five sections. Then they wove wires in and out of the sections, creating a flexible wall of wires and plastic that could hold pens and pencils.
Hanshew had an assortment of yarns – of almost every color imaginable – on a craft table. From now on, Revival Fiber Arts classes are held outdoors because the church building is a work in progress, or "a labor of love," according to Hanshew.
"Do you want to have a church here?" one of the children asked as they weaved their pencil holder.
"No," Hanshew said. "It will be the church of all fibers." Next, she explained what she meant by fiber. Fiber arts include a multitude of crafts ranging from quilting and sewing to weaving and knitting.
Hanshew discovered the church through Teri Sommers, the building's previous owner. She met Teri Sommers because she performs military rites at funerals for the VFW.
Hanshew told Sommers of her dream business plan, and Sommers warned her that the building needed a lot of work.
"She said, 'I have this church but it's in really, really bad shape,'" Hanshew said. "And I said, 'I don't care, I'll take it!'
The church building is not. 18 on the Greentown Historic Trail, according to the Revival Fiber Arts website. The ground floor, which was once the chapel, has stained glass windows. Inside the building, some of the original woodwork is still intact.
Hanshew and her husband, James Hanshew, bought the building in August 2020, but there was a lot of work to do.
"We got here and part of the chapel ceiling had collapsed," she said. "Actually, all the beams are up now, so I can get things out and put them in the dumpster no problem. My husband and I have done a lot of cleaning, it's just a labor of love."
The kids in the fiber arts program asked to look inside, but Hanshew said no.
"Not this week, honey," she said. "I don't want you to go in there, it's still a bit too dangerous."
Right now, the next step is to send dumpsters to Revival to remove more items from the building. Hanshew said the goal is to open the building for business next year.
The building has quite a rich history. It was built in the late 1890s as a church that grew from a tent revival, then moved to its current location on North Meridian Street and became Greentown Brethren Church. The church has changed names and hands several times, moving from the United Methodist Church of the North, then to the Chapel of Praise.
The building stood empty until Teri Sommers acquired it for use as a gift shop called The Church Mouse.
"When I found the signage in the building, it had The Church Mouse (logo) on it," she said. "So I scratched that off, and it said, 'Praise Church Ministries'."
The new Revival Fiber Arts sign pays homage to the property's past with a church mouse on the sign and using "Revival" in the name.
Ultimately, Hanshew's goal is to bring the love of tactile arts to the community no matter what. His mission was clear in his teaching style during the Fiber Arts for Kids class.
"Can I use another color now?" Juliana Sommers asked Hanshew.
"Of course you decide what you want to do," Hanshew said. "You are not limited."