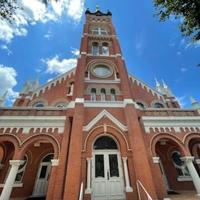 Sts. Cyril and Methodius Catholic Church Building, Autumn Picnic, 100 Years | Characteristics
Members of Sts. Cyril and Methodius Catholic Church in Shiner has more than one reason to celebrate this year. The beautiful church building, part of the unofficial Painted Churches of Texas Tour, turns 100 years old. And the congregation will celebrate its Centennial Fall Picnic at KC Park in Shiner on September 5.
"From generation to generation, it (the picnic) started 100 years ago, and it's the great-grandchildren who are doing it now. It's just a beautiful gathering," said Deacon Joe Machacek, business manager for the church who also helps with Shiner Catholic School. "They come from all over – from out of town – just to enjoy the food and the camaraderie. It's like a big family reunion. There is no doubt about it, we have the best food.
Machacek was ordained a deacon in 2009 but has been a church member for most of his life. About 800 families belong to Sts. The Cyril and Methodius Catholic Church, which is blessed with "really good" pastors and a dedicated and faithful congregation, he said.
"You hear statistics about 20% of people going to church, but that's far from the truth in Shiner," Machacek said. "The Lord has blessed us from generation to generation, and we have served very well."
When the kids leave Shiner and graduate from college, they want to live in the big city until they have families of their own. This is when many of them return to Shiner and the religious community continues to grow, he said. The church is notable for its stained glass windows, which depict the progression of Jesus' life; mural of Christ in the Garden of Gethsemane behind the altar; copper roof and steeple that can be seen for miles from any direction.
Harvey Picha, a church member since 1973, grew up in Sinton but moved with his wife to Shiner, where he has roots. Picha's grandfather was among the farmers who helped transport materials to the site by horse and wagon when the church was originally built in 1921, he said. Like his grandfather, Picha also helped build the church, while trying to retain the original look and feel of the structure.
Picha, who was a building contractor before retiring, has over the years helped fix rotting frames around stained glass windows and replacing rotting floors in the 149-foot steeple, among other projects. All four of Picha's children were baptized into the church and attended Shiner Catholic schools.
"(I like) the architectural design of the old world. For me, when I go there, I have the feeling of being in a church of holiness, not in a modern structure. I go there and I I feel at home," Picha said. "We get a lot of visitors who stop to take pictures and ask questions.
In preparation for the picnic, many volunteers will attend the 5 p.m. Saturday mass, which is traditionally a Czech service with Czech music, so they can start early on Sunday morning. More than 5,500 plates were served at the Spring Picnic on Memorial Day weekend. The church expects to serve about 6,000 plates this fall.
The $12 plates will include three meats – Shiner Picnic Stew, Fried Chicken and Country Sausage – and sides of sauerkraut, potatoes and green beans.
The meal will be served from 10:30 a.m. to 2 p.m. in the air-conditioned dining room of KC Hall. Take-out plates will be available at the drive-thru from 10:30 a.m. to 12:30 p.m. or while supplies last at the Kaspar Pavilion in Green-Dickson Park.
Lots of ice-cold beers will be for sale, as well as bottled and sparkling water, and snow cones and ice cream will appeal to the kids. Later in the afternoon, burgers, nachos and sausages on a stick will be available for purchase.
In commemoration of the 100th Autumn Picnic, Spoetzl Brewery brewed a special small batch of Labor Day Lager. Five hundred special commemorative mugs with the Shiner Brewery logo on one side and the church on the other will be available for $20 each to hold the special beer.
Those attending the picnic will be able to enjoy the music inside and outside the venue all day, and many will take the opportunity to let off steam.
The Country Store will open at 8:00 a.m. under the bingo stand with a variety of offerings including pastries and preserves, kolaches and pigs in a blanket. Games will include vegetable wheel, ring toss, ball toss, fish pond and wheel of fortune, among others. A petting zoo and a four-wheel train will also keep the children amused. Bingo will be played in the dining room from 3-7 p.m. and the grocery wheel will start at 5 p.m.
The Big Country auction, which is one of the main attractions, will start at noon, and many unique handmade items will be up for grabs, Machacek said. For example, Joe Marek and Victor Kasper make a one-of-a-kind domino table every year, and Diane Hirsch's homemade cheese rolls often fetch over $300. Large and small quilts hand sewn by God's little helpers throughout the year will be auctioned off along with homemade wine and canned vegetables.
"Sometimes people get into a bidding war, and it's fun to see who lasts the longest and pays the most," Machacek said. "Sometimes the bidding wars are between Texas A&M and the Texas Longhorns, and it's great fun to see people in action."
Ranchers are donating cattle for the Livestock Auction, which begins at 3 p.m. This year's lineup will include a registered Black Angus bull calf and a purebred Oak Valley Brangus heifer, among others.
Tickets will be on sale for $1 each or six for $5 for a chance to win 40 prizes. Tickets for the grand prize, a Kawasaki mule utility vehicle on a trailer worth $17,864, will cost $25 each or five for $100, and only 3,000 tickets will be sold. Two $500 gift cards and two $250 gift cards will also be awarded to those selected in the grand prize draw. The prize draw will take place after the auction.
"Everyone always has a good time. People come from all over, and it's a great day for the whole family with lots of activities for the kids, and lots of good food and refreshments," said Ann Duke, the church secretary.