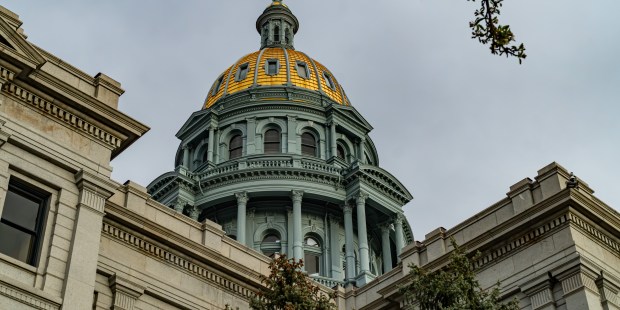 no communion for pro-abortion lawmakers
The action is gravely sinful and places the legislator out of the communion of the Church.
Voting for a law that facilitates the killing of unborn children is a 'gravely culpable action,' and any Catholic legislator who has done so has placed themselves outside the communion of the Church, the Catholic bishops of the country have said. Colorado.
The bishops released an open letter to state lawmakers this week, calling HB22-1279, the Reproductive Health Equity Act (RHEA), "one of the most extreme abortion bills in the world." country".
RHEA allows abortion from conception until birth and for any reason, including the child's race, gender or disability, the Bishops said.
"According to some of the lawmakers supporting RHEA, this new law is designed to make our state an abortion destination and a 'safe haven,'" they said. "They expect pregnant mothers to flock from surrounding states to abort if Roe vs. Wade is overturned. It causes us deep sadness and distress to know that some Catholic legislators voted for this.
"During the vote on the Reproductive Health Equity Act, it became clear through their public votes that several Catholic legislators support the end of life of unborn children and declare that an 'ovum, embryo or fetus impregnated "has no 'independent or derivative rights' in Colorado," the bishops continued. , we would like to publicly thank State Senators Barbara Kirkmeyer, Kevin Priola and Jim Smallwood and Representative Andres Pico, Catholic lawmakers who voted to protect unborn children and against allowing our state to deprive them of their God-given right to life."
Voting for RHEA, they said, was a gravely sinful act because it facilitates the murder of unborn innocents, and the Catholic politicians who did so most likely placed themselves outside the communion of Church.
The prelates mentioned the statement of the American bishops last year, "The mystery of the Eucharist in the life of the Church": "Receiving the Body and Blood of Christ in a state of mortal sin represents a contradiction. The person who, by his action, has broken communion with Christ and his Church but receives the Blessed Sacrament, acts inconsistently, claiming and rejecting communion at the same time. It is therefore a counter-sign, a lie — it expresses a communion which, in fact, has been broken.
The letter, signed by Archbishop Samuel J. Aquila of Denver; Auxiliary Bishop Jorge H. Rodriguez of Denver; Bishop Stephen J. Berg of Pueblo and Bishop James R. Golka of Colorado Springs concluded by asking that unless these Catholic legislators publicly repent and receive sacramental absolution in confession, they will voluntarily abstain from receiving Holy Communion.
Brittany Vessely, executive director of the Colorado Catholic Conference, said in an email that the lawmakers' repentance had to be public because of the public outrage caused by their votes. She highlighted this paragraph from the bishops' letter:
Finally, when other Catholics see public figures receiving Jesus in such a spiritual state, their resolve to be faithful to the Gospel can be weakened. A Catholic politician or public figure leading or encouraging others to do evil is a disrespect for the souls of others and is what the Church defines as a "scandal".
"The dimension of scandal involved in this action makes it a public sin, which leads others to sin (see Catechism of the Catholic Church, 2284-2287)," Vessely said. "The repentance demanded is logically proportioned to this offense. It consists of a repentance known to others, at least to those who may have gone astray. It involves public acknowledgment by these politicians that they were wrong to support and promote civil law, which favors the killing of innocent human beings, and that they intend not to do so again.
The letter said that it should not be up to a priest or other minister who distributes Communion to isolate offending legislators. "The burden of [legislators'] decision does not rest on the shoulders of priests, deacons or extraordinary lay ministers of the Eucharist," he said. "It rests on the conscience and the souls of the politicians who have chosen to support this bad and unjust law."