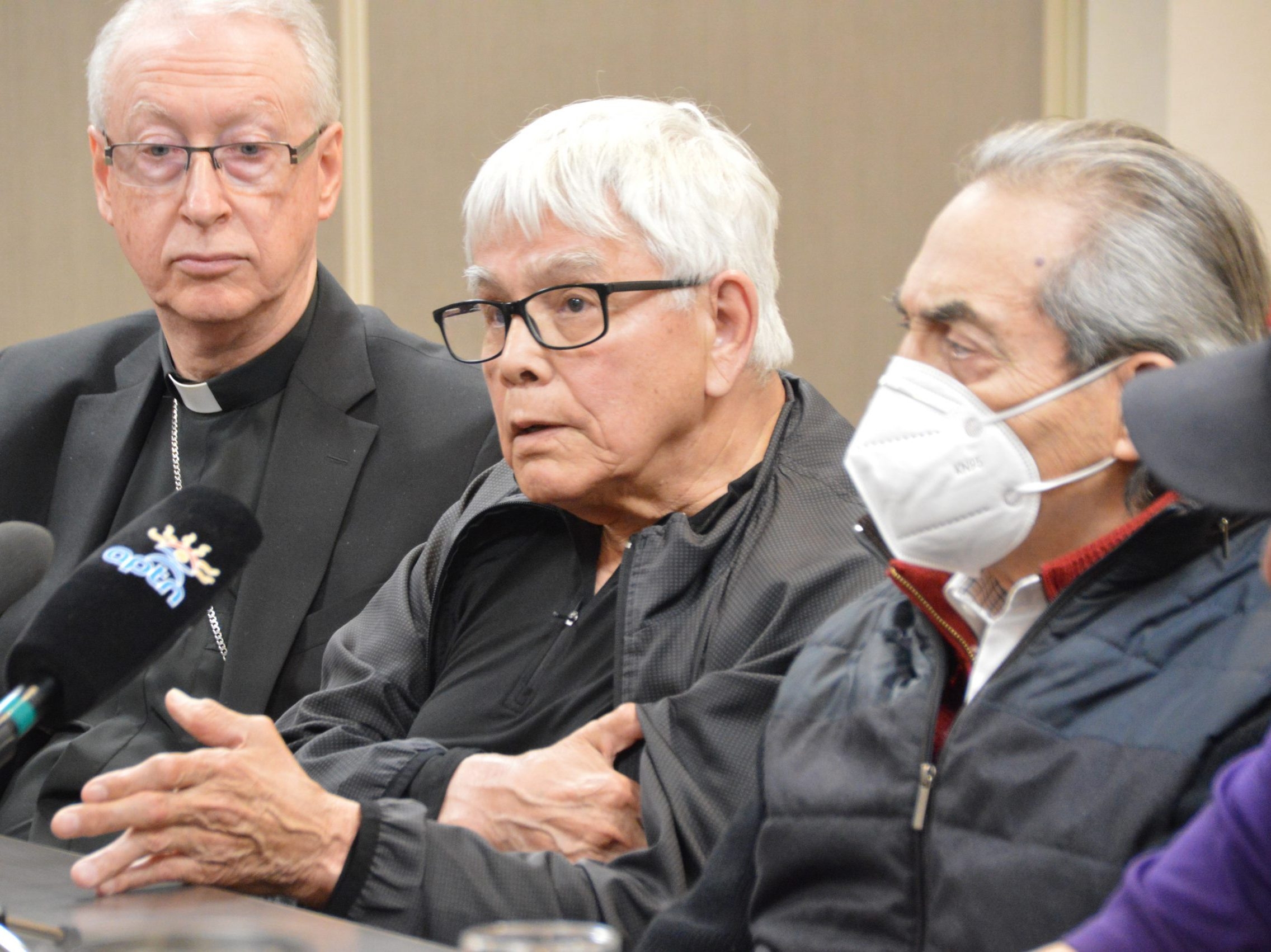 Indigenous leaders and Catholic Church bishops meet ahead of Pope's visit
Content of the article
Residential school survivors and Indigenous leaders met with Roman Catholic bishops in Winnipeg this week to discuss what they expect to see and hear next month during Pope Francis' planned visit to Canada.
Content of the article
The group of residential school survivors and Indigenous leaders, who met for two days with bishops at the Delta Hotel in downtown Winnipeg, included the former regional chief of the Assembly of First Nations (AFN ) for Manitoba, Ken Young, and former AFN National Chief Phil Fontaine. .
Young, spoke to the media on Wednesday after the meetings and said that while he was pleased with the pope's apology for the church's longstanding role in Canada's residential school system, which was presented in Rome in April He believes the pontiff should also apologize and show regret while on Canadian soil on his trip, which is scheduled for July 24-29.
"I expect the Pope to apologize on behalf of the Catholic Church immediately," Young said. "How does it work, and how does it work in terms of the words that we have agreed to work on with the bishops, because the bishops can influence what the pope says when he comes to our homeland.
"He comes to treaty land, and he has to say, 'I'm sorry for what happened to your people and your children in the name of the Catholic Church,' and how he says that's the question. dominant and in suspense, and that requires discussion."
On April 1, after days of private meetings between Pope Francis and First Nations, Inuit and Métis delegates from across Canada at the Vatican, Pope Francis publicly said he was "very sorry" for the "deplorable actions of some within the Catholic Church. Church who were involved in Canada's residential school system, which operated for over a century in Canada.
Content of the article
The Pope is now expected to have additional meetings with Indigenous leaders during his planned trip to Canada, which will see him visit Alberta, Quebec and Nunavut in late July.
Richard Smith, who is the Archbishop of Edmonton, was one of the bishops invited to this week's meetings in Winnipeg, and he said that while the Vatican and the Pope are open to the formulation of any apology, this formulation will ultimately be decided. by Vatican officials and by the pontiff.
"I have a feeling he'll do the right thing, he'll say the right thing no matter what, because he really wants this to be a step up," Smith said.
Some Indigenous leaders and residential school survivors are still hopeful more locations can be added to the pope's trip, but Smith said he thinks that's unlikely due to the pontiff's current health and mobility, which , according to him, were in decline recently.
"I don't know, but I wouldn't be surprised if people advised him not to travel at all," Smith said.
Smith said he was "astonished" that Francis was continuing his visit to Canada given his current state of health and limited mobility, adding that the pope had recently canceled a planned trip to Lebanon due to his medical condition.
— Dave Baxter is a Local Journalism Initiative reporter with the Winnipeg Sun. The Local Journalism Initiative is funded by the Government of Canada.