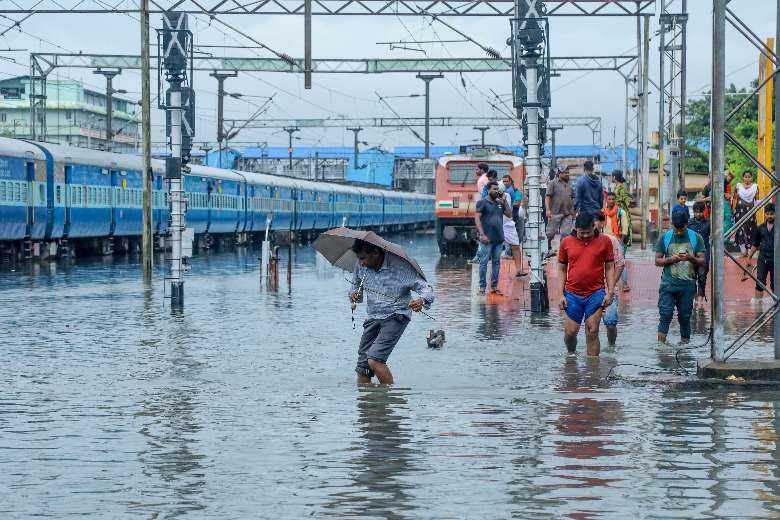 Indian bishops raise public concerns over railway project
India
Proposed K-Rail project in Kerala state is likely to displace more than 20,000 families to acquire their ancestral properties
Passengers walk on waterlogged train tracks at Ernakulam Junction railway station in Kochi, in the southern Indian state of Kerala, on October 21, 2019. (Photo: AFP)
The Catholic Church has urged the Communist-led government of the southern Indian state of Kerala to clarify its railway plan amid widespread opposition from the people.
"The government cannot totally ignore the growing protests and criticism of its Semi-High Speed ​​Rail Corridor or its proposed Silver Line linking one end of the state to the other," said a statement released by the Bishops of the State. Kerala on March 29.
The Prelates want the government to decide on the feasibility of the railway project for the benefit of people who have serious suspicions about it. Critics of the project fear it will cause environmental damage and benefit the common man.
Thank you. You are now subscribed to the daily newsletter
REGISTER NOW!
keep up to date Don't miss the latest news
"We are not against any social welfare project, but people need to be given confidence before launching it," said Fr. Jacob G. Palackappilly, Deputy General Secretary and Spokesman of the Kerala Council of Catholic Bishops.
He said the concern of the Church was the welfare of the people. "We don't want them to suffer and that's why the government should dispel all doubts. Our past experience is that many people have been displaced in the name of social projects and still need to be rehabilitated," Fr. Palackappilly told UCA News March 29.
The Bishops' statement comes a day after India's Supreme Court refused to interfere with the project's surveying and social impact assessment process.
He would displace more than 20,000 families, whose rehabilitation would cost the public treasury dearly, increasing the debt burden of his people.
"We don't want to block any project at all, we are very clear," said a bench of Judge MR Shah and Judge BV Nagarathana while rejecting an appeal challenging an earlier Kerala High Court order allowing the government to sue the project. .
The Kerala Rail Development Corporation (K-Rail), a joint venture between Indian Railways and the state government, was launched eight years ago to augment the state's public transport system.
The Silver Line project would require approximately 1,383 hectares of land, of which 1,198 hectares are in the possession of private individuals who do not want to be displaced.
Opposition parties from the Congress-led United Democratic Front (UDF) called the project "unviable and disastrous" for the state. This would displace more than 20,000 families, whose rehabilitation would cost the public treasury dearly, increasing the debt burden of the population.
But Chief Minister Pinarayi Vijayan called the move "inevitable for the development of the state's infrastructure", stressing the need to reduce traffic congestion and accidents across the state.
Church leaders and ordinary people are unconvinced and are staging public protests against the project, clashing with K-Rail officials and police during ongoing survey operations in many places.
Recent news